Supporting ecosystem implies work on community development interested in innovations that have impact on the community, the development of strategic partnerships inside and outside the WB region, and inputs in the development of adequate policies and regulations.
The Upbeat Hub will work on creating its own products based on the application of innovative working methods and using Blockchain technology as well as products that support the development of various forms of innovation in the field of management solution, social and circular economy.
The Upbeat team will be dedicated to supporting the development and prototyping of business ideas and their scaling up through collaboration with other stakeholders.
Personnel education for innovation development, use of Blockchain technology, and support to stakeholders through trained human resources will be one of the pillars of Hub's work.
A team consists of social Innovators with 20+ years' experience and blockchain coding pioneers with a strong help of IT all-rounders and professional economics and advertisers. We gathered in order to make the best possible environment for local Innovators/Coders/Various IT engineers improve their skills in our innovation school or follow our forums, workshops or meetups.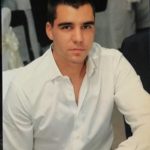 Modeling & New Generation
Young innovator with a bachelor degree in Law. Despite that, he is a self-thought engineer
and in accordance to that his love are innovations, engineering and technology. Your passion are willing to transfer on younger generation.

Working as a lab engineer at the Faculty of Polytechnics, leading all the projects and events related to 3D: printing, modelling and scanning. Part of the UP beat HUB team.